About Us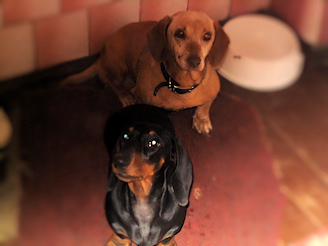 Officialy Dark Sparks kennel was born in 2006, but behind of this name there are 20 years of working and breeding of teckels.

The kennel name and its motto were born by the shiver of sparkles of teckel's eyes in the darkness of the burrows, like a "dark spark", shiver who is understood just by few breeders whose teckels love to work underground.

The owner of kennel is HIRIAN LIVIU, a romanian veterinary doctor,which started his aprrenticeship from childhood,owned and loved dogs near his father, also a veterinary doctor, owner of few German Shepard.

The love for teckels was born in 1988, when my father gave me as a present,my first teckel,a wire female, named DINA. For her hunting skills she was saved by my father from a tragedy from her owner hands, because she kiled about 10 chickens in the backyard.This hunting skills brought her my appreciation,and because of them too, she vanished after 2 years of great friendship. Next spring,to pass over my sadness, my father made another present for me,my first smooth teckel named CORA,a yellow one,whose nickname was "SPECIAL vom GOLF", as a joke by one of my close friend.(after a succesfull variant of breed from Hungary at that moment).


Our friendship lasted 15 years, when I learnt the secrets of genetics,which have helped me untyl today to planed my litter carefully.

When CORA's star was in twilight, I decided to breed this rase for performance and I decided to buy my first female in 2004 for the future kennel. She was Mary,a smooth teckel with a outstanding morphologic and temperamental qualities. She became first smooth teckel owning a pedigree which was realy able to hunt in ROMANIA. She passed easely her working tests in Romania and became RCH. also. Unfortunately she died very young,in 2006, being hited by a car, but her qualities are living in her offspring from A litter.

In year 2005 , I decided to have the wire hair variety,and in oct. 2005, Alice, a wire hair female arrived in the kennel. She is going to have a great results in shows and work,becoming a RCH. And winn also CACT with maximum points. She is the pillar of my wire champions.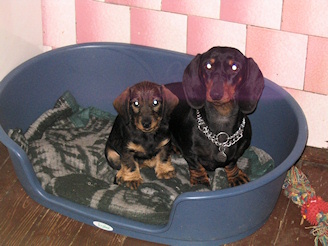 I belived the genetic qualities of the dogs which I started must be special one, and for that I chosed " vom Golf" blood line for smooth and "Hubertus" blood line for wire, bouth line are very stabilised genetic line, with a great temperament and hunting skills.

In year 2006 I decided the official registration under FCI protection of the kennel,and in the same year would be born the first litter.

In nov. 2010 in our kennel arrived the last member of standard teckel family,a long hair female from Solyomvari kennel , Olly.She is also a great builded dog and have very good hunting skills.She will be the pillar of our show & hunting long hair teckels.
Since 2006 until today our dogs gave us greate satisfaction in dogshows , working trials & hunting,proof of their morfologic & temperament hight qualities